What is Toastmasters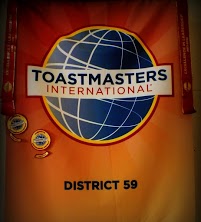 Learn How to Speak
The mission of a Toastmasters club is to provide a mutually supportive and positive learning environment in which every member has the opportunity to develop communication and leadership skills, which in turn foster self-confidence and personal growth.
The Origins
In October 1924, a group assembled by Dr. Ralph C. Smedley met in the basement of the YMCA in Santa Ana, California, USA, forming a club "to afford practice and training in the art of public speaking and in presiding over meetings, and to promote sociability and good fellowship among its members." The group took the name "Toastmasters."
In 1975, the "Toastmasters of Paris" was chartered. We are a local chapter of Toastmasters International, and the oldest English-speaking Toastmasters club in France.
How The Program Works
The Toastmasters program exposes each participant to a wide range of communication experiences.
During the meeting's Table Topics session, members learn to think on their feet by delivering short impromptu speeches, lasting one to two minutes.
The initial prepared speeches, are designed with the new Toastmaster in mind. A variety of assigned speeches help the participant develop competency in areas such as organization, voice inflection and persuasiveness.
After giving a prepared speech, each Toastmaster receives a constructive individualized speech evaluation. This process recognizes speakers for their strengths and provides valuable insight into problem areas.
Come as a Guest
Guests are welcome to come to a meeting. Please let us know when you are coming.
Become a member
In order to become a member, guests must come to a minimum of three meetings at Toastmasters of Paris. Candidates for membership will go through an interview process with our Vice President Membership. If their bid for candidacy is accepted, they will then be invited to give a short presentation to the club. If the candidate is accepted, he/she will then pay the annual club membership dues and become an official member of Toastmasters of Paris.
Please note that Toastmasters of Paris is not for practicing English, but rather for already fluent English speakers to practice their public speaking, communication, and leadership skills in a stimulating learning environment.
Each new Toastmaster receives the basic Communication and Leadership manual, and general orientation materials such as information regarding skill improvement in areas such as speech evaluation and the use of gestures.
Upon completion of the basic Communication and Leadership program, Toastmasters may participate in the Advanced Communication and Leadership program. Participants may choose from specific business oriented topics such as Speeches by Management, Technical Presentations, Specialty Speeches, Persuasive Speaking, Public Relations, Speaking to Inform.
Workshop style Success/Leadership programs are also available, offering opportunities for further skill development in areas such as leadership, public speaking and conducting business meetings.
For further information on becoming a member, please
click here
.